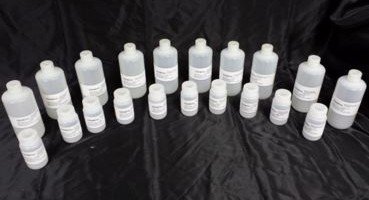 Giri Diagnostics Pvt.Ltdis proud to introduce a line of high quality buffers for various applications. These include: prewash, wash, blocking, coating and enzyme stabilizing buffers. All buffers contain high quality reagents and preservatives to ensure optimal performance and stability. For more flexibility and added stability we also offer powdered buffers, which are easily prepared by adding high quality water.
They offer a variety of wash buffers, including tris-based or phosphate-based, to suit different applications. Wash buffers are sometimes overlooked or neglected in assay development, which could be detrimental to overall assay performance. Suboptimal wash buffers may leave high assay background or may remove targeted antigens if too strong, both of which reduce the overall sensitivity of the assay.
Their AP wash buffer has been specially formulated to help stabilize alkaline phosphatase while washing away unbound molecules in order to get the highest AP activity with minimal background. The AP wash buffer is ideal for ELISAs utilizing an alkaline phosphatase detection system with chromogenic or chemiluminescent substrates.
ELISAs are dependent on functional enzymes and antibody integrity. Their stabilizing buffers are unique to specific enzymes to ensure optimal activity. Currently they offer specialized stabilizer buffers for alkaline phosphatase (Cat No. SBAP101), horseradish peroxidase (Cat No. SBHRP102), and beta-galactosidase (SBbeta-Gal103), with more in development. The enzymes or enzyme conjugates remain stable even at low concentration, so there is less worry about loss of activity upon dilution, which also increases the dynamic range of the assay. Increased enzyme activity leads to lower quantities used, saving on precious resources. With these optimized stabilizing buffers, the shelf life of the enzymes is significantly extended when stored under the specified conditions, therefore reducing potentially wasted reagents.
Both of their detection systems can be customized to work in several different systems.
Please visit Giri Diagnostic at the AACC Expo in Houston, Booth #2465 to learn about their buffers and the other high quality products they provide. http://www.giridiag.in.
← Giri Diagnostic Pvt.Ltd's,
Highly Sensitive Chemiluminescent Reagents
New Products from Giri Diagnostic Pvt.Ltd→